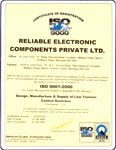 RELIABLE ELECTRONIC COMPONENTS PRIVATE LIMITED was established in 1977 by a team of technocrats and professionals having vast experience in the field of L.T.Switches, Precision Tooling, Engineering Plastic, Finance, Accounts and Management & Marketing. Initially started at Nasik currently operating Marol, Andheri (East) Mumbai with 7600 sq.ft. ara. After designing, tooling & development of a range of Rotary Switches of wiping contact designing suitable for AC & DC upto 125 Amp., and a arange of about 15 different sizes of Cam operated butt contact switches in every preferred rating from 6 Amp to 125 Amp., range of breaker control switches - spring return & stay put, lockable handle, lost motion contacts, sequence locking device etc., range of 1, 2, 3 & 4 pole toggle switches rated at 6, 10, 15, 35 Amp in different switching sequence, stay put and spring return type, a range of Micro Switches with different actuators like roller, lever, auxiliary, push button & variety of other actuators.

The entire range of RECOM switches conform to all the relavant Indian Standards Specifications, Defence specifications and are tested at C.P.R.I., C.A.C.T. and DEFENCE laboratories for use in P & T and telecommunication equipments and other user industries. Most of the leading consultants and authorities of our country like R.D.S.O., L.C.S.O., & C.A.C.T. Railways, Telecommunication E.L.L. for Petrochemical refinery, P.D.I.L. for Chemicals & Fertilisers, Tata Consulting Engrs. for steel and metallurgy, N.T.P.C. & N.H.E.P.C. for Hydro Electric project, NPC & B.A.R.C. for nuclear power project, Mining authorities at Dhanbad And leading project consultants and manufacturers like Siemens, ABB, L&T, BHEL, Jyoti, Alstom, Beco Lawrie, MEI, NGEF, KEG, Andrew Yule, Instrumentation Ltd. etc. have been regularly patronizing RECOM range of switches in their prestigious projects from last few years. RECOM products are also being used by various other industries in the fields like machine tools, medical instrumentation etc. Infact more than 2000 customers are using our products out of which around 500 customers are buying switches on regular basis.
Recom has participated in nation building exercise in modernisation program of all major steel plants in INDIA successfully and helped in saving precious foreign exchange.
In recognition to the contribution to the field in which RECOM operates its chairman Mr.V.S.Kamath an ALUMNI of BHU was conferred with "Udyog Patra" award in 1982 by the Institute of Trade and Industrial Development at the 6th Economic Development Conference held at FICCI auditorium, NEW DELHI by the then vice president, Hon'ble Shri M. Hidayatulla.
RECOM, presently operates from its two plants located at Marol in Mumbai and at Thane.
We at RECOM continuously strive to implement good management, engineering and fair trade practices, and quality systems in our endeavors to have satisfied customers.